Frequently asked questions
How do I start my podcast?
---
To get started with your podcast, you will first need to sign up. Visit Hubhopper studio to sign up for free. Once you have created an account for yourself, and you have to create a podcast channel. Simply upload your audio content or record using the Hubhopper studio online audio editor tool or the Hubhopper studio recorder app ( ios | Android ). Publish your podcast and go live!
---
How do I get more listens?
---
Keeping your existing listeners and others informed about new episode releases, can help you get the listens you require. Maintaining consistant growth of listens per episode is important. Distribute your podcast to the right channels and market it the right way. The more people know about your podcast, the better the sitaution.
---
How do I monetize?
---
There are a lot of ways to monetize from your podcast. But before you reach to that stage, you must ensure your podcast have a good listenership base. By this we mean numbers of listens your podcast receives and the number of fans of your show. When a podcast can be associated with a community, this provides a lot of leverage to your podcast. Here are some ways you can monetize from your podcast once you reach this stage: - Audiobooks - Merchandise - Live Shows and Events - Workshops - Premium Content - Advertisements For more details, click here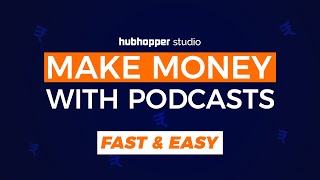 ---
What is a podcast?
---
Podcasts are audio shows and stories that are available on the internet. These are series of recorded content pieces, usually based around a specific idea, topic, or theme. They are typically audio recordings of narratives or conversations, either between a host and a guest speaker, or monologues by a single person. For example your favourite radio shows or even your religious prayers like the Hanuman Chalisa, is a podcast.
---
Why should I have a podcast?
---
Podcast is an amazing medium to put across your content. Here are some reasons why you should start a podcast: - Video/Social Media is a format of active consumption. Audio is a format of passive consumption. Podcast can be consumed anytime and anywhere. - Having a Podcast is an added value preposition for your content channel. You can leverage on both your followers and listenership. - Creating Audio content is low in cost or no cost at all, and is much more simpler as compared to Video creation. - Listeners are more loyal as compared to Viewers or social media followers, and have higher engagement
---
How long should my podcast be?
---
We usually recommend between 10-15 minutes per episode. As we have seen that the attention span of a listener starts to decline post this period. But, the duration completely depends on the nature of the podcast. Interview podcasts can go up to 30- 45 minutes long, while some go up to even 2 hours. Understanding your content and knowing your listeners will help you find that sweet spot. To start off with, you can record a 5 minutes audio clip for your 'Introduction episode'. This is where you introduce yourself and your podcast to your first listeners.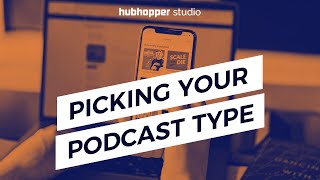 ---
What defines a good podcast?
---
There is no definite metric to categorize as a good podcast. All we can say is that, if you have at least 5000 listens with minimum 12 episodes, then you are on the right track. What is more important is to be able to reach out or create a community around your podcast.
---
How/Where do I record?
---
You can use your mobile phone to record. You can use the Hubhopper studio recorder apps: ios | Android You can also use your desktop to record your podcast by using the Hubhopper studio Online Audio Editor tool. If you wish to purchase a microphone, we recommend a lapel microhone which is cheap and does a decent job. Otherwise, keep in mind that microphones don't come cheap. Here are budget microhones we recommend: - Blue Yeti USB Condenser Microphone - Blue Microphones Snowball iCE Condenser Microphone - Samson Meteor Mic USB Studio Microphone - Zoom H1 Handy Portable Digital Recorder Here are a few points to keep in mind while recording: - To begin with, make sure you are recording in a closed and quiet space with no noise or disturbance. Even some episodes of ​the 'Serial' podcast were recorded inside a closet! - Pronounce every word properly and ensure your script is crisp and engaging. You can use headphones to hear yourself as you record (recording software will allow you to do this). - If you fumble or stammer while recording, don't worry. Leave a pause and start again where you had made the mistake. These mistakes can be edited out later. - You can record your content in parts, rather than trying to complete it in one take. This will allow you to be able to revise and maintain flow quality. - Use a pop filter to cut out the pop-sound from the ​P's and T's in your speech.
---
How can I record with two or more people?
---
If you are planning an interview, we recommend using a single microphone to capture your conversation. If you wish to use two separate microphones, you can use a "lapel microphone". Each connected to the other's mobile devices. The audio can be stitched together later while editing. If you have to interview someone who is out of station, you can use Skype or Zencastr as a tool to record your conversations. These tools are easy to use and can capture good audio quality.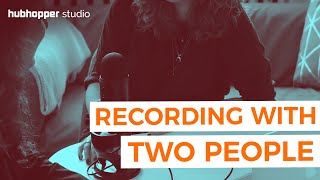 ---
How do I edit my audio file?
---
You can simply use the Hubhopper studio online audio editor through your dashboard, Which is a free tool for podcasters. A simple, yet an effective editing tool that is able to create high quality podcasts for users.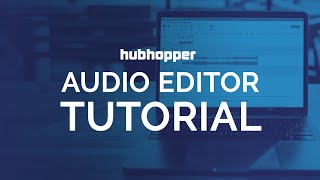 ---
Can I use Hubhopper studio on my mobile phone?
---
Yes, you can open your Hubhopper studio acount on your mobile browser and access your dashboard. But, we recommend you using the desktop for a better experience of the platform and its services.
---
What is a podcast cover art? How should I make mine?
---
A podcast cover art is the image that represents your podcast. Just like an album art for music or an icon for an application. If you do not have any experience with graphic designing or software, no worries. Hubhopers studio has an inbuilt tool to help you design your podcast cover art easily and create professional looking creatives.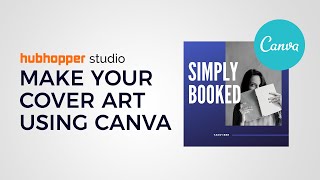 ---
What is a podcast description & episode description?
---
A podcast description is the paragraph that defines your podcast channel. This is the first thing that a user reads when they land in your podcast channel to understand the type of content your podcast covers. This is like a book summary. This a great place to mention your social handles, website or your email address for listeners to contact you. Think about your description as the keywords through which your listeners will find you (think about it like podcast SEO and you'll be good to go). Think about words people may write when searching for a podcast like yours. An episode description is a summary of your episode. This gives the listener a brief on what the episode is all about and what you will be talking about in the episode.
---
How to get more listeners?
---
Once your podcast is live, getting people to listen to your podcast is the next challenge. We recommend you start with the low hanging fruits which is your family & friend circles. Announce the launch of your podcast to them and on all your social media handles. Keep people informed and ask them to share. Distirbute your podcast RSS feed across to plaforms where you can aquire new listeners for your podcast. Don't forget to inform your existing listeners where all they can tune in to your podcast too. You social media handles can go a long way in helping you get more listeners. Keep existing listeners informed and engaged, while trying to reach out to the communities your podcast is associated with. Remember to add the podcast channel link in all your communications. Whether it is your emailer, to your social profiles. In your podcast, remember to tell the listeners to subscribe to your podcast channel to stay updated on all new episodes. Ask them to share your podcast as well. Inform your listeners on where all can they listen to your podcast. From mobile applications, desktops, to their Amazon Alexa devices.
You can even collaborate with other podcasters to feature your podcast on some of their podcast episodes. This way, their pool of listeners will be aware of your podcast too.Getting a guest to your show also helps you in a manner. This helps divide the work of promotion of that episode between your guest and you. Your guest will be promoting the episode where she/he is featured too. This way, your guest's circle also discovers your podcast, which in return can result in new listeners.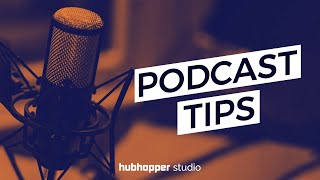 ---
How will someone discover my podcasts on Hubhopper?
---
Once your podcast goes live, it will be featured under the category "New Releases". You will also have to announce the launch of your podcast to your circles and on your social media handles. Ask people to subscribe to your channel. That way they don't have to search for your podcast every time. As your podcast progresses, it will be rewarded with more visibility.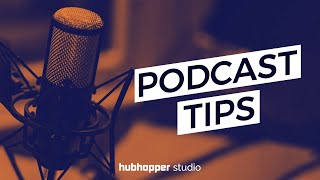 ---
Can I add links or my socials to my podcast channel?
---
Currently, you cannot add any clickable links on your podcast/episode descriptions. However, that should not stop you from mentioning your point of contacts and the 'call to action' you wish them to perform. We recommend you to mention your social handles and your email address within your episodes itself. If you have a 'call to action' for your listeners, please do mention this in your episodes as well. This way your listeners know how to reach out to you and also follow up to your episode with a 'call to action'. However, You can create your very own 'website' with Hubhopper studio. Where you can link your social handles. Your website will have all your podcasts and can have details about you or your business. This will allow users to not only listen to the podcast, but also know about the creator and reach out.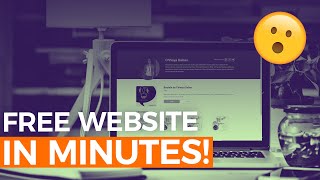 ---
How can I migrate my podcast to Hubhopper studio?
---
Migrating your podcast to Hubhopper studio is simple and easy. Your listeners won't even realise the switch had ever happened! It is a simple 3 step process to migrate:- 1) Migrate podcast data Create an acount at Hubhopper studio and choose the option of 'migrate existing podcast'. Then add your existing RSS feed for the system to transfer your podcast data like episodes, cover art, description, etc 2) Request Re-direct Once tranfer of data is completed; publish your podcast to generate your new Hubhopper RSS feed. Take your new RSS feed to your previous hosting platform and request a 'Re-direct'. This option will either be given in the platform interface or you can contact their support team. 3) Continue expanding distritbution Re-direct takes about a few hours to be completed. This will connect your previous RSS feed with the new RSS feed. Once done, you can continue to exapnd your podcast distribution across the Hubhopper network. We recommend not deleting your previous hosting account; but to simply keep it inactive. If you had previously claimed your podcast on Spotify and Apple podcasts; simply go to your respective account and update the RSS feed section with your now new Hubhopper RSS feed. There you go, the migration process is completed and your listeners & subscirbers across platforms can continue listening to their favourite podcast.
---
How to prevent duplicates of my podcast to appear on other platforms?
---
While publishing your podcast live, publish it on only on Hubhopper for the meantime as to get your new RSS link generated. Once pulished, take your new RSS link to your previous hosting platform and request a Re-direct. This will ensure that your podcast across previously distributed platforms will now be linked to your new RSS link. This way, you do not have to re-distirbute your podcast, hence, preventing duplicates to appear across platforms. If you had previously claimed your podcast on Spotify and Apple podcasts; simply go to your respective account and update the RSS feed section with your now new Hubhopper RSS feed.
---
Will my podcast be available on Google podcasts & Spotify, if I host on Hubhopper studio?
---
Yes, your podcast will be made available on both Google podcast & Spotify. To name a few, here are where all your podcast can be distributed:
- Digital Podcast
- Google podcast
- Player FM
- Pocketcast - Blubrry - Podtail - Bullhorn - Listen Notes
- Podcast Addict
- Podkicker
- Spotify
- TuneIn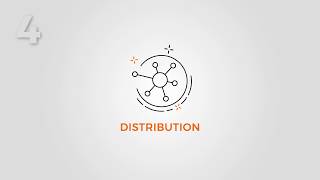 ---
Does Hubhopper do all the distribution for us? If yes, to what degree do they do it?
---
Yes, Hubhopper will be distributing your podcast for you. You have the option to choose where all you wish to have your podcast distributed. Your podcast will be distributed across our network of podcast plaforms within 2-3 business days. Our network of podcast platforms includes the likes of Spotify, Google podcasts, Tunein, Pocketcast and many more Over time as your podcast performs and you get more audiences to tune in, we will further distribute your podcast across our network of partners. These includes the likes of Amazon Alexa, Gaana, Ola Play, to name a few.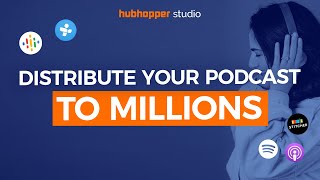 You can futher distribute your podcast manually by submitting your podcast RSS feed provided in your dashboard. Here is a blog to help you out on your distribtuion.
---
Will I get detailed data analytics of my podcast?
---
Yes, you will get a cumulative data of the performance of your podcast regardless of where it has been distributed. All listens will be tracked and represented on your data analytical dashboard. You can view the listens of your podcast based on: - Time of the day - Day of the week - Episode performance - Location You will also be provided with the data of your podcast from Spotify on your Hubhopper studio dashboard.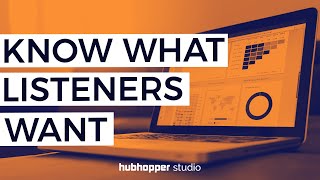 ---
What is the Hubhopper original program? How do I join the program?
---
In this program, Hubhopper supports the best of indian audio content creators by providing marketing and distribution assistance. This helps them reach the stage of monetization sooner. The program provides full support from the Hubhopper team to the creators and catapults the podcast to the level of premium podcast, with extensive distribution and many more opportunities. Once your podcast accomplishes 'Level 04', where you need to have at least 7 episodes and 1500+ listens, our team will be tracking the performance of your podcast. Once you have achieved 'Level 04', you can submit your podcast for the program by writing to podcasters@hubhopper.in . Once submitted, our team will review your podcast and contact you soon. For more information kindly reach out to us.
---
What is Hubhopper? How is Hubhopper Studio different?
---
Hubhopper brings you over a million hours of audio content and across 15 languages. We are your personal audio content curator and the number one platform for Indian audio content. Visit www.hubhopper.com to listen to podcast.

With Hubhopper Studio, anyone can now start their very own audio channel and be heard across more than 15 million touch points in the country! Visit www.hubhopperstudio.com to start your very own podcast.

An end-to-end platform for audio content in India.
---
Difference between Submission & Migration of podcast.
---
If you are already a podcaster and wish to be a part of Hubhopper, you can look at two options. You can migrate your podcast from your old hosting platform to Hubhopper studio, a free hosting platform. A migration would mean transfer of data, which is your audio files, your cover art and your podcast details. This tranfer can be done automatically on the Hubhopper studio dashboard. This would mean that your podcast will now be hosted with us and distributed through us. This would mean that your podcast will be avialable on Hubhopper and across its distribution network of podcast platforms and its partners. If you wish to only distirbute your podcast to Hubhopper, you can share your RSS feed to info@hubhopper.com. This would mean that your podcast will be avaiable only on Hubhopper Web & App.
---
Why should I host my podcast on Hubhopper Studio?
---
Hubhopper studio makes the process of starting a podcast as simple and as seamless as possible for content creators. Helping them focus on content creation, rather than the technical aspects. - Free hosting platform - Active podcasters community - Host multiple podcasts with one account for Free - Automatic podcast distribution to podcast platforms and beyond. Getting your podcast to online cab entertainment, Amazon Alexa, OTTs & OEM devices and many more. - Free Website for your podcasts - Free Online Audio Editor tool - Details data analytic dashboard - India's leading audio distribution platform. India listens to Hubhopper. - Lot of amazing parties & events for our podcasters!
---
How can I promote/market my podcasts?
---
1. Create and Promote your microsite - This is a wonderful tool. You can create your own website through Hubhopper studio and promote it on platforms such as Google, Facebook, LinkedIn and more. This website not only has all your episodes, it also has all your social media handles to enable listeners to connect with you.
2. Create Audiograms - An audiogram is the best tool to share your podcast on social media. Hubhopper studio enables you to build an audiogram in seconds - Just choose an image, caption and audio file ,and Voila! Your audiogram is ready to be downloaded and shared with the world.
3. The Power of Social Media - Let your friends and family know about a new episode that you have released. You can do this by sharing posts, stories and tweets and also Linkedin Posts! Yes - The podcast community is growing across Linkedin too. Don't forget to tag us, we always love seeing new creators come in everyday, and we'll be very happy to connect and share the love :)
4. Manual Rss distribution - While hubhopper has distributed you to most major platforms there are a few that require creator intervention. Use this RSS to add your podcast to the following platforms.
5. Twitter - Hubhopper has integrated auto generated video cards on twitter. Just take the episode URL from your podcast on Hubhopper, add it to Twitter and your fans will be able to stream it directly from there.
6. Spotify - Hubhopper is integrated and distributes your podcast to Spotify. Find your podcast on Spotify and share it to Facebook or Instagram story where your fans can play it directly.
7. Alexa - Hubhopper distributes your podcast on tunein, which automatically makes it available across every Alexa enabled device. Find it on Alexa and that your podcast with your fans.
8. Write into platforms - where your podcast is available for featuring. Platforms often show a lot of love new creators making waves in a particular genre.
---
What is the Hubhopper "incentive program' for podcasters?
---
With Hubhopper studio, podcasters can recieve promotion and distribution advantages as they are able to achieve certain set milestones defined in the, 'incentive program. Here are the rewards a podcaster can achieve:- Level 1 ( Podcast Live ) : A free website Level 2 ( 3 Episodes & 150+ listens ) : A social story on the Hubhopper Instagram handle Level 3 ( 3 Episodes & 500+ listens ) : A push notification to all Hubhopper app users Level 4 ( 5 Episodes & 1500+ listens ) : Distribution to Indus OS mobile devices Level 5 ( 5 Episodes & 3000+ listens ) : Distribution to Gaana Level 6 ( 7 Episodes & 9000+ listens ) : Banner placement on Hubhopper Web & App More levels will be announced as you progress.
---
Why is my Spotify Data showing only post June 2020?
---
This is because the data integration between Spotify & Hubhopper had gone live during this period. Hence, the system can only showcase data post the integration period.
---
How do I know my total listens if there are two sets of data being represented?
---
To get the total listens, simply add your 'Hubhopper Total listens Data' along with your 'Spotify Total listens data'.
---
Does Hubhopper studio analytics include everything like apple, playerFM, Hubhopper ecosystem, google, alexa etc ?
---
Yes, the Hubhopper Data analytical dashbord inlcudes a cumulative data from all plartforms where your podcast is currently available; Except Spotify, which is represented separately on the dashboard itself.
---
How can we see a break up of data between all the different platforms?
---
We at Hubhopper are currently working towards providing you this data points. We want to ensure that you get the correct data represented on your dashboard. Hence, our team is working endlessly to provide you with this feature soon.
---
How often/frequently is the data refreshed ?
---
The Hubhopper data analytical dashboard is refreshed every 24 hours. The current data represented is prior to the last refresh cycle. Spotify data is refreshed every 24 - 48 hours.
---
How do I see my podcasts 'all time' data on the data analytical dashboard?
---
We are currently working on representing your podcast's all time data. For the meantime, you can only view up to 90 days of your data.
---
Will I lost my subscribers and analytics data on Spotify/Apple podcasts after migrating?
---
You can seamlessly migrate your subscirbers on Spotify by simply logging in into your Spotify account and update your podcast RSS by adding the new Hubhopper studio RSS feed. This way your subscribers without even knowing will seamlessly get migrated to your new feed and will continue to get updates on new episode on Spotify. Same can be done for your podcast on Apple Podcasts as well, where you have to login to your Apple account and simply update your podcast RSS feed with the new Hubhopper studio RSS feed. If you don't have an account on any of these platforms, simply sign up and claim your podcast if it already exist in the platform. If not, you can simply distribute your podcast by adding your podcast RSS feed.
---
How long will the re-direct process take?
---
The re-direct process takes up to a few hours depending from platform to platform
---
After re-direct, will my podcast get updated if I upload a new episode?
---
Yes, your previous RSS link is now linked to your new RSS link; Hence, any change or update made further will reflect on your podcasts, across platforms
---
After re-directing my RSS, can i start expanding my distirbution across Hubhopper's distribution network?
---
Yes, you can choose where all you wish to distribute your podcast across Hubhopper's network. Once selected, simply hit the 'Distirbute' button.
---
How to add an embed player of my podcast onto my website?
---
You can now seamlessly add an embed player of your podcast to your website. Here is how you can: - Copy the embed player code provided in your dashboard - Paste the code to your webiste coding There you go! your webiste visitors can now directly listen to your podcast on your webiste!
---
Having difficulties claiming your podcast on Spotify?
---
If you are facing an issue while trying to claim your podcast on Spotify, you can reach out to us at info@hubhopper.com and our team will assist you.
---
---